Articles | Volume 10, issue 1
https://doi.org/10.5194/jsss-10-83-2021
© Author(s) 2021. This work is distributed under
the Creative Commons Attribution 4.0 License.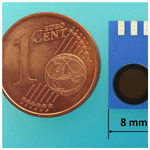 Ceramic multilayer technology as a platform for miniaturized sensor arrays for water analysis
Ion-selective electrodes (ISEs) have been proven particularly useful in water analysis. They are usually used as single-rod measuring chains in different designs, which are manufactured using precision mechanical manufacturing and assembling technologies. The paper describes a microsystem technology approach for the fabrication of miniaturized electrochemical sensors. The ceramic HTCC (high-temperature co-fired ceramic) and LTCC (low-temperature co-fired ceramic) multilayer technology enables suitable processes for the manufacturing of robust and miniaturized sensor arrays with a high functional density. Design, manufacture, and electrochemical performance of the novel ceramic multilayer-based sensor array are presented in the paper using various examples. An adapted material and process development was carried out for the sensitive functional films. Special thick-film pastes for the detection of the pH value as well as , K+, Ca2+, and Cu2+ ion concentrations in aqueous solutions were developed. Ion-sensitive thick-film membranes were deposited on a ceramic multilayer sensor platform by means of screen-printing. All ISEs, integrated in the sensor array, showed suitable electrochemical performances including a very quick response (several seconds) combined with a high sensitivity (exhibiting Nernstian behaviour) in the tested measuring range. The obtained sensitivities were around 57 mVper decade: for the pH sensor, 30 mVper decade for calcium, 53 mVper decade for potassium, and 57 mVper decade for ammonium. Depending on the application, different sensitive electrodes on the ceramic sensor array can be combined as required.
Received: 29 Sep 2020 – Revised: 11 Jan 2021 – Accepted: 18 Feb 2021 – Published: 25 Mar 2021
Monitoring water quality is essential to protect the environment and health. In applications like drinking water and wastewater monitoring, intelligent agriculture, and the food industry, the measurement of different ion concentrations is required. Users have increasing demands on the sensors regarding their measuring properties, robustness, miniaturization, geometry variability, and costs. The sensor requirements are particularly aimed at functional integration and smart, cheap, miniaturized multi-sensors for mass applications. According to the state of the technology, usually potentiometric sensors for ion concentration measurements, so-called ion-selective electrodes (ISEs), are used. These ISEs are based on various, mostly precision mechanical manufacturing and assembling technologies. Their manufacture is quite expensive, and the miniaturization potential is limited. These restrictions can be overcome by using ceramic multilayer technology: LTCC – low-temperature co-fired ceramic (sintering temperatures at 700–950 ∘C) and HTCC – high-temperature co-fired ceramic (sintering temperatures >950 ∘C). The ceramic multilayer technology was originally developed for the manufacturing of multilayer printed circuit boards and enables the design of complex three-dimensional structures in a simple manner, layer by layer. Components made by ceramic multilayer technology have already conquered broad areas of application in electronics and microsystem technology.
The manufacturing process of LTCC systems is simple, fast, and inexpensive (Golonka, 2006). The advantages of LTCC ceramics like high mechanical strength, high reliability, the ability of making 3D microstructures with cavities and channels, and a high level of integration and miniaturization (several sensors in one LTCC module) are responsible for its successful use as a sensor platform. In a very similar manner, HTCC modules are manufactured (Sebastian and Jantunen, 2017). HTCC ceramics are used if higher chemical and thermal stabilities are necessary. HTCC tapes require sintering temperatures above 950 ∘C and need compatible melting point conductors such as tungsten, molybdenum, or platinum for co-firing. In contrast, lower melting point conductors like silver, gold, and copper can be used in the LTCC co-firing process.
The literature shows examples for LTCC-based electrochemical sensors, e.g. a miniaturized pH sensor based on an Ag  AgCl reference electrode and an iridium oxide (IrOx) sensing electrode for environmental and food quality monitoring (Amor et al., 2016). A miniaturized, low-cost pH sensor made of a commercial RuO2-based paste and RuO2–Ta2O5 glass paste fabricated on LTCC substrates for online solution monitoring has been described (Manjakkal et al., 2016). The performance of the prepared LTCC-based pH electrodes enables their applicability in the next generation of solid-state pH sensors.
In many cases, electrochemical pH sensors based on metal oxides (MOx) are used for the measuring of the pH value in food processing, health monitoring, agriculture, and water quality monitoring, etc. (Manjakkal et al., 2020). Ion-sensitive MOx are alternative materials to glass membranes that are mainly used for electrochemical pH sensors. Actual MOx-based pH sensors have attracted significant attention due to their high sensitivity, fast response time, long lifetime, ease of miniaturization, and stability in different atmospheres. However, despite their performance, MOx-based pH sensors are not suitable for mass use due to the high material price of the MOx (RuO2, IrOx). Due to their lower manufacturing and processing costs, pH-sensitive glasses are more cost-effective for broad application.
There are already developments of miniaturized multi-sensors for water quality monitoring, for example miniaturized water quality monitoring pH and conductivity sensors (Banna et al., 2014). Interdigitated electrodes were formed for the pH and conductivity sensors, implemented in a serpentine channel interface, and covered with hydrogel for the pH sensor. The electrical properties of the hydrogel change during the swelling and de-swelling process and are used as indicators of the pH change. A multi-sensor using thick-film technology for water quality control has been developed on Rubalit alumina substrate, designed to measure parameters like temperature, conductivity, redox potential, pH value, and dissolved oxygen (Martinez-Manez et al., 2005). Here, a thick-film RuO2 electrode was screen-printed and used for potentiometric pH measurements. Again, a RuO2 sensing electrode on an alumina substrate was used for water quality assessment by an integrated multi-sensor (Zhuiykov et al., 2009). The multi-sensor was designed to detect the pH value, oxygen content, temperature, conductivity, and turbidity. Furthermore, a miniature multi-parameter sensor chip for water quality assessment to detect the pH value, conductivity, and temperature was fabricated using microelectromechanical system (MEMS) techniques and once more iridium oxide film as the pH-sensing material (Zhou et al., 2017).
To measure heavy metal ion concentrations in water, electrochemical electrodes based on selective membranes of chalcogenide glass (CG) can be used. Different authors have described the measuring of Cu2+ ions with ISEs based on CG (Baker and Trachtenberg, 1971), as well as the synthesis and physical and electrochemical properties of Cu2+-sensitive CG materials (Vlasov et al., 1986) and the realization of Cu2+-ion-sensitive CG membranes by means of radio frequency (RF) co-sputtering on ion-sensitive field effect transistors (Vlasov, 1993). This physical procedure caused problems regarding the stoichiometric deposition of CG membranes that is of importance for the functionality of the CG-based ISEs. By means of the process of pulsed laser deposition (PLD), CG membranes with remaining stoichiometry of glass composition may be manufactured (Schubert et al., 1999). PLD indicates high equipment costs, while the deposition of thin CG membranes is very time-consuming.
Thick-film technology is an alternative process for the fabrication of low-cost miniaturized chalcogenide-glass-based ISEs. The preparation and results of measurements with screen-printed Cu2+-sensitive CG electrodes on ceramic have been reported (Enseleit et al., 2018). This work is also based on thick-film-based ISEs, whereby the manufacturing process of Cu2+-sensitive CG was optimized. It was possible to melt the glass at significantly lower temperatures (far below 1100 ∘C).
Ion-selective electrodes based on a screen-printing technique for the determination of calcium (Goldberg et al., 1994 and Wang et al., 2003), potassium, and ammonium ions (Goldberg et al., 1994) were studied. The ion-selective membranes are prepared from a mixture composed of a high-molecular-weight polymer, a plasticizer, an ionophore, and lipophilic cationic or anionic salts, dissolved in tetrahydrofuran (THF) as organic solvent. Because of the high evaporation rate of THF, the viscosity of the paste changes significantly during screen-printing, which results in drying out of the paste and in blocking of the screen meshes. This disadvantage was overcome by a simple and cheap method for the manufacture of solvent polymeric ion-selective membranes for potassium, ammonium, and nitrate ions on flexible polyester foils (Koncki et al., 1999). The chemical cocktail has been calculated according to the classical composition of an ion-selective membrane. In contrast, however, the modified pastes are manually produced mixing ionophore, plasticizer, and additives in an insulating ink. In this way, the solvent that evaporates easily is avoided.
This paper presents the development of a ceramic multilayer-based, cost-effective, and miniaturized sensor array for water analysis in numerous analytical and industrial processes. Manufacturing processes of thick-film and ceramic multilayer technology-based electronics are used for sensor manufacturing. Fine mechanics or precision mechanical manufacturing and assembling are being replaced by screen-printing and the fabrication of multiple printed panels, which allows for the automation of sensor production as well as sensor miniaturization and therefore cost reduction. The outstanding feature of ceramic multilayer technology is the ability for the manufacturing of hermetic 3D multi-material ceramic components. In the case of multilayer-based pH sensors, besides different sensor functions, electromagnetic shielding is embedded inside the multilayer. The above-mentioned hermetic tightness is important to prevent cross-influences such as leakage currents. Thus, the ceramic multilayer technology offers a high potential as a ceramic-based integration platform for various miniaturized ion-sensitive sensors. This work demonstrates an example of a sensor array for the determination of the pH value and the concentrations of ammonium, potassium, calcium, and copper ions in water.
2
 Development and design of the multilayer-based miniaturized sensor array
HTCC- and LTCC-based sensor arrays with varying arrangements of the ISEs were produced. Figure 5 shows an example of an HTCC multilayer with two variants of the sensor array on the top of the multilayer. Variant 1 is designed for a triangular-shaped pH electrode and three other ISEs and variant 2 for a circular-shaped pH electrode and another ISE. The construction was carried out on a tile with 55 sensors. After completion of the sensor assembly, the individual sensor arrays are separated from the multiple printed board by laser cutting. In Fig. 6, an example of a separated sensor array, with a reference electrode on the bottom and the pH electrode, Cu2+ ISE, and two other ISEs like Ca2+, K+, or on the top, is shown.
Using LTCC technology, for example, a "simple" miniaturized pH sensor was designed (Fig. 7). The assembly was manufactured on a tile with 45 sensors with the pH electrode on the top and the reference electrode on the bottom. Figure 8 shows the separated sensor.
The ISEs are potentiometric indicator electrodes that respond to the activity of the type of ion to be determined. Here, potentiometry, as an electro-analytical method of quantitative analysis, uses the concentration dependence of the electrochemical potential. The changes of potential of all ISEs were measured with a Keithley electrometer 6512 with an input resistance in the tera-ohm (TOhm) range in connection with the saturated silver / silver chloride reference electrode at 25 ∘C. Triaxial cables were used for the measurement, and a shielding cage was installed around the device under test. The chip contacts were covered with silicone after soldering the measuring cable to protect the contacts from moisture by measuring liquid and to avoid leakage currents. In the following, the measurement results of ISEs using the circular electrode shape are represented.
3.1

 pH sensor

Potentiometric measurements with HTCC-based and LTCC-based miniaturized pH sensors were carried out in four standard buffer solutions of pH 1.68, pH 4.01, pH 6.86, and pH 9.18. The pH sensors were preconditioned in 0.1 M KCl solution at least 2 h before the measurements at room temperature (23±2 ∘C). Regardless of the ceramic material (HTCC ZrO2, LTCC), the pH sensors show a sensitivity of 57.0±1.0 mV/pH, which is in accordance with the Nernst equation for monovalent ions. One calibration curve of a LTCC-based pH sensor is exemplarily shown in Fig. 9.

Furthermore, the potential stability continuously over time of the pH sensor as an important parameter for its practical application was examined. It was measured in the standard buffer solutions of pH 1.68, pH 4.01, pH 6.86, and pH 9.18 at 25 ∘C. Between the single measurements of the long-term test, the pH sensor was stored in a 0.1 M KCl solution at room temperature (23±2 ∘C). During the study period of 175 d, the pH sensor showed extremely stable potentials in all investigated buffer solutions at 25 ∘C (Fig. 10).
3.2

 Cu2+ ISE

The thin glass membranes manufactured by screen-printing of chalcogenide glass paste are copper-ion-sensitive and can be used on various ceramic substrates (HTCC ZrO2, LTCC). The sensitivity of the CuAgAsSe thick-film electrode is in the linear measuring range from 10−1 to 10−4 M Cu(NO3)2, 0.1 KNO3 solution at 30.5±1.0 mV/pCu2+. This value corresponds to Nernst's behaviour for divalent ions. Figure 11 represents an example of the calibration curve of a LTCC-based Cu2+ ISE.
3.3

 K+,

, and Ca2+ ISEs

The polymer-based ion-sensitive membranes of the K+, , and Ca2+ ISEs show suitable electrochemically properties independent of the ceramic substrate material (HTCC ZrO2, LTCC). All ISEs show a rapid response (several seconds) and high sensitivity in the studied measuring range at 25 ∘C (Fig. 12).

The Ca2+ ISE was checked for functionality in Ca2+-containing solutions of different concentrations. The sensitivity of the Ca2+ ISE thick-film electrode is in the measuring range from 10−1 to 10−4 M Ca(NO3)2, 0.1 M KNO3 solutions at 29.0±1.0 mV/pCa2+. This value is in accordance with Nernst's behaviour for divalent ions.

The sensitivity of the K+ ISE thick-film electrode is in the measuring range from 10−1 to 10−4 M KNO3, 0.05 M MgSO4 solutions at 54.5±1.0 mV/pK+ and thus exhibits Nernstian behaviour for monovalent ions.

The ISE was checked for its functionality in -containing solutions in the concentration range 10−1 to 10−4 M NH4Cl, 0.05 M MgSO4. The sensitivity is in this measuring range at 56.0±1.0 mV/p. This value also corresponds to the Nernst behaviour for monovalent ions.
Based on different examples, the suitability of HTCC and LTCC multilayer technology for the manufacturing of ceramic-based miniaturized sensor arrays was demonstrated. Using this microsystem technology, a platform for the integration of electrochemical sensors for water analysis has been developed. Depending on the design, sensor arrays of different customized layouts can be manufactured. The individual sensitive films are screen-printed using special thick-film pastes. This included the paste and process development for the deposition of the ion-sensitive thick-film membranes on the ceramic sensor platform. The sensitive films on the sensor array are freely combinable regarding its application. In the presented examples, the functional proof for the measuring of parameters like the pH value and the Cu2+ heavy metal ion concentration, as well as the concentration of cations like Ca2+, , and K+ in aqueous solutions, was demonstrated. In terms of manufacturing costs, LTCC technology is the more cost-effective option compared to HTCC technology. Both variants allow for the manufacturing of smart, robust sensor arrays with a high functional density.
All relevant codes presented in the article are stored according to institutional requirements and, as such, are not available online.
All data used in this paper can be made available upon request to the authors.
CF and UP created the concept of the project and were responsible for raising the funds. The sensor layouts, all sensor designs, validation, and measurement data analysis were carried out by CF in close consultation with UP. All authors contributed to the review and editing of the final paper. UP supervised the work.
The authors declare that they have no conflict of interest.
This article is part of the special issue "Sensors and Measurement Science International SMSI 2020". It is a result of the Sensor and Measurement Science International, Nuremberg, Germany, 22–25 June 2020.
This research has been supported by the ZIM programme of the German Federal Ministry for Economic Affairs and Energy (grant nos. KF2087359KM4 and ZF4076443RE8).
This paper was edited by Andreas Schütze and reviewed by two anonymous referees.
Amor, H. E., Kouki, A. B., Marsh, P., Kim, K. T., and Cao, H.: Development of a novel miniaturized LTCC-based wireless pH sensing system, in: SENSORS, 2016 IEEE, 30 October–2 November, Orlando, USA, 1–3, 2016. 
Baker, C. and Trachtenberg, I.: Ion Selective Electrochemical Sensors – Fe3+, Cu2+, J. Electrochem. Soc., 118, 571–576, 1971. 
Banna, M. H., Najjarana, H., Sadiq, R., Imran, S. A., Rodriguezc, M. J., and Hoorfar, M.: Miniaturized water quality monitoring pH and conductivity sensors, Sensor. Actuat. B-Chem., 193, 434–441, https://doi.org/10.1016/j.snb.2013.12.002, 2014. 
Enseleit, U., Berthold, M., Feller, C., Partsch, U., Körner, S., and Vonau, W.: Chalcogenide Glass Based Heavy Metal Sensors, Sensors & Transducers, 219, 1–8, 2018. 
Goldberg, H. D., Brown, R. B., Liu, D. P., and Meyerhoff, M. E.: Screen printing: a technology for the batch fabrication of integrated chemical-sensor arrays, Sensor. Actuat. B-Chem., 21, 171–183, 1994. 
Golonka, L. J.: Technology and applications of Low Temperature Cofired Ceramic (LTCC) based sensors and microsystems, B. Pol. Acad. Sci.-Tech., 54, 221–231, 2006. 
Koncki, R., Glab, S., Dziwulska, J., Palchetti, I., and Mascini, M.: Disposable strip potentiometric electrodes with solvent-polymeric ionselective membranes fabricated using screen-printing technology, Anal. Chim. Acta, 385, 451–459, 1999. 
Manjakkal, L., Synkiewicz, B., Zaraska, K., Cvejin, K., Kulawik, J., and Szwagierczak, D.: Development and characterization of miniaturized LTCC pH sensors with RuO2 based sensing electrodes, Sensor. Actuat. B-Chem., 223, 641–649, https://doi.org/10.1016/j.snb.2015.09.135, 2016. 
Manjakkala, L., Szwagierczak, D., and Dahiyaa, R.: Metal oxides based electrochemical pH sensors: Current progress and future perspectives, Prog. Mater. Sci., 109, 100635, https://doi.org/10.1016/j.pmatsci.2019.100635, 2020. 
Martinez-Manez, R., Soto, J., Garcia-Breijo, E., Gil, L., Ibanez, J., and Gadea, E.: A multisensor in thick-film technology for water quality control, Sensor. Actuat. A-Phys., 120, 589–595, https://doi.org/10.1016/j.sna.2005.03.006, 2005. 
Sebastian, M. T. and Jantunen, H.: High temperature cofired ceramic (HTCC), low temperature cofired ceramic (LTCC), and ultralow temperature cofired ceramic (ULTCC) materials, in: Microwave Materials and Applications 2V Set, I&II, 1st edn., Chapt. 8, edited by: Sebastian, M. T., Jantunen, H., and Ubic, R., March 2017, John Wiley and Sons, United States, ISBN 9781119208525, 2017. 
Schubert, J., Schöning, M. J., Schmidt, C., Siegert, M., Mesters, S., Zander, W., Kordos, P., Lüth, H., Legin, A., Mourzina, Y. G., Seleznev, B., and Vlasov, Y. G.: Chalcogenide-based thin film sensors prepared by pulsed laser deposition technique, Appl. Phys. A-Mater., 69, 803–805, 1999. 
Vlasov, Y. G.: Sensor R&D in the former Soviet Union, Sensor. Actuat. B-Chem., 15–16, 6–15, 1993. 
Vlasov, Y. G., Bychkov, E. A., and Medvedev, A. M.: Copper ion-selective chalcogenide glass electrodes, Analytical characteristics and sensing mechanism, Anal. Chim. Acta, 185, 137–158, 1986. 
Wang, S. H., Chou, T. C., and Liu, C. C.: Development of a solid-state thick film calcium ion-selective electrode, Sensor. Actuat. B-Chem., 96, 709–716, https://doi.org/10.1016/S0925-4005(03)00571-9, 2003. 
Zhou, B., Bian, C., Tong, J., and Xia, S.: Fabrication of a Miniature Multi-Parameter Sensor Chip for Water Quality Assessment, Sensors 2017, 17, 157, https://doi.org/10.3390/s17010157, 2017.  
Zhuiykov, S., O'Brien, D., and Best, M.: Water quality assessment by an integrated multi-sensor based on semiconductor RuO2 nanostructures, Meas. Sci. Technol., 20, 095201, https://doi.org/10.1088/0957-0233/20/9/095201, 2009.